1, No remote cable design, reduce the disconnection fault, improve mobility.
2, Wire diameter selection, solid core / flux core wire switching and arc selection function.
3, Unified / individual adjustment conversion function.
4, Easy to operate, easy to maintain.
5, Unique anti-main burning damage patent technology and multiple protection functions.
6, The structure design is tight, high reliability, adapt to harsh environment.
7, The standard machine is equipped with automatic welding analog interface.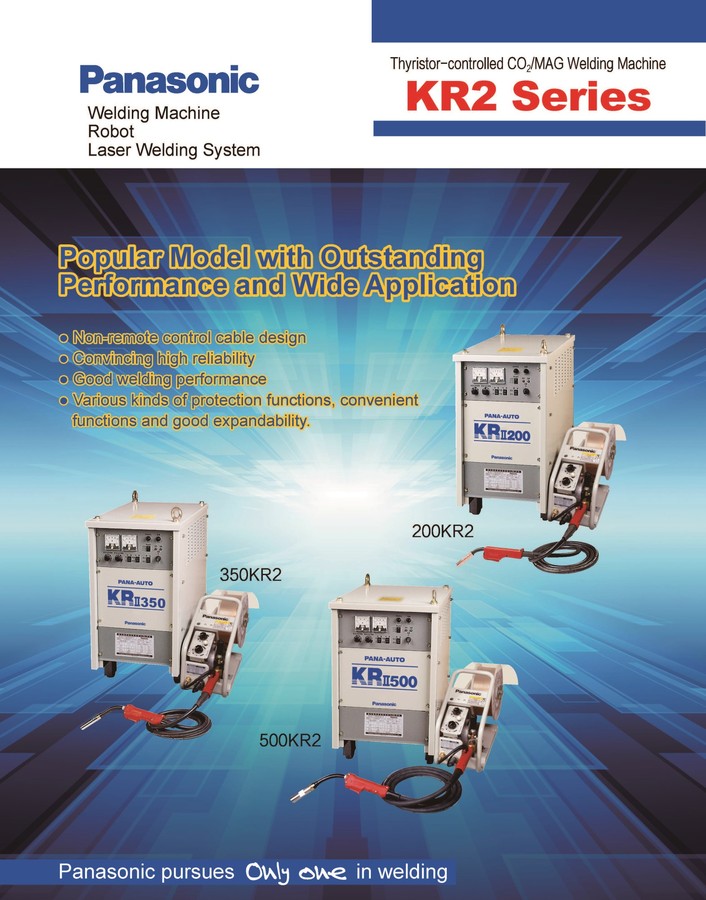 ●Non-remote control cable design
By carrying the remote controller on the wire feeder and improvement of control circuit,the original two
pieces of cable was integrated to one piece.This realized light weight,improved mobility and decreased
wire breaking trouble.
●Convincing high reliability
●High insulation strength(Class H),high temperature resistance and good dust proof structure are adopted
in main transformer and reactor.
●IP(International Protection) class of enelosure is IP21S and it effectively prevents the affection and interference of the main circuit to the control circuit.And moisture-proof,dripproof and dust-proof structure enables the operation under adverse circumstances.
The special patented technology preventing the damage of main transformer further improves the safety
performance and reliability of the machine.
●Good welding performance

●KR2 adopts the special control circuit which realizes low spatter welding in short circuit transfer and spray
transfer of CO2/MAG welding.
●The arc starting circuit ensures high rate of success of arc srart,which reaches to almost 100% under any
operating mode within the technical specifications. It is also possible to be equipped with various automatic

welding systems.
●Various kinds of protection functions,convenient functions and good

expandability.

●Overheat protection
●Under-voltage protection
●Output over-current protection
●Lighting-proof circuit
●Adjustable burn-back time
●Pre-flow on-off selection
●Current detection terminal for peripheral equipment
●Individual and Simple Unitary mode
●Specifications
Model

YD-200KR

YD-350KR

YD-500KR

Control method

-

Thyristor

Input power source frequency

Hz

50/60

Rated input capacity

KVA/ KW

7.6/6.5

18.1/16.2

31.9/28.1

Rated duty cycle

%

60

50

60

Output current range

A

50~220

60~380

60~550

Crater current range

V

16.5~25

17~33

17~41.5

Crater voltage range

A

50~220

60~380

60~550

Output voltage range

V

16.5~25

17~33

17~41.5

Method of welding

-

Individual/Unitary

Enclosure protection class

-

IP21S

Insulation class

-

H

Cooling mode

-

Forced air cooling

Applicable welding wiretype

-

Solid / FCW

Applicable welding wire diameter

mm

Solid.8/1.0/1.2

Solid1.2/1.4/1.6

mm

FCW1.2

FCW1.2/1.4/1.6

Overall dimensions

(W×D×H)

mm

376x675x747

436x675x762

Mass

kg

89

117

158

Wire feeder

YW-20KB3

YW-35KB3

YW-50KB3

Applicable welding wire diameter

mm

0.8/1.0/(1.2)

1.2/1.6

Length of cable

m

1.8

Welding torch

YT-20CS4

YT-35CS4

YT-50CS4

Rated current

A

200

350

500

Applicable welding wire diameter

mm

0.8/1.0/(1.2)

(0.8)/1.0/1.2

1.2/1.6

Length of torch cable

m

3