Full digital IGBT inverter control CO2/MAG welding machine CPVE400
The best welding current waveform control of CO2/MAG arc phenomenon is carried outby using

OTC unique IGBT inverter control technology.

Achieve100% load duration, improve welding efficiency.

Perfectarc performance and welding depth control function to achieve low spatterwelding.

Contains30 welding specifications memory storage program, 1-10 of which can be read andcalled

directly through the remote control box.

Theinner functional conditions can be set directly through the panel to realizethe convenience of

operation.

The humanized key lock protection function and arc characteristic mode settingfunction, all digital

control soft touch key digital display screen.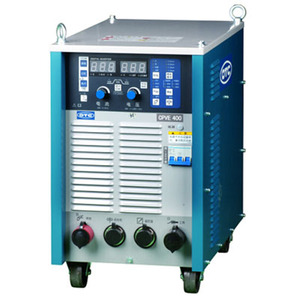 Technicalparameter
Comprehensive Name

CPVE-400

Welding power supply

Model

Input voltage

V,Hz

3*380±10%,50/60Hz

Rated input capacity

KVA

16.2KVA(15.3KW)

Output current range

A

30~400

Rated load duration

%

100

Outline size (W*D*H)

mm

345*550*580

weight

kg

50

Wire feeding device

Model

CM-6201/CM-621/CM-8201

Welding torch

WT3510-SCD/WT3510-SCP

Gas flow regulator

W-198-36v

Welding cable

BKPT-5002