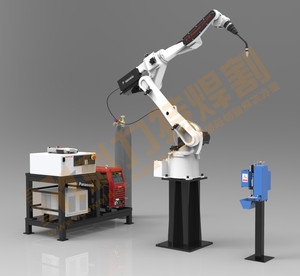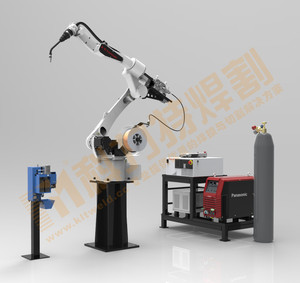 KLTBA006L- Panasonic YD350GL5 ( Configuration list)



Description

Model

Quantity

1

6 Axis Welding Robot

Model:BA006L

R=2036mm,Load=6kg

1set

Teach pendant




Color LCD with touch-panel;

Emergency Stop SW, Teach Lock SW and Enable SW;

Cable Line: Standard configuration(10m)

Controller




Model:E01;

Input Power: AC200-AC220V±10%、50/60Hz、3 phases

Controlled axes: Std. 7 axes (Max 9 axes);

Memory capacity: 8MB;

I/O signals: GPIO board (Input 32/Output 32);

Dimensions: W550×D580×H278mm,40Kg

Transformer

AC 3*380V is converted to AC 3*220V

2

Welding Power




Model: Panasonic YD-500GL5

Load rate: 60% ;Pulse MIG/ Pulse MAG/CO2

Contain: Wire feeder , Control cable

1set

Wire Feeder




Panasonic 6-axis robot dedicated wire feeder; Panasonic extension cable (5m)

3

welding torch




KLT-W500;

special welding gun for Carbon steel, stainless steel welding; Water-cooled welding torch

1set

4

Cooling water tank

Model:WL-20L

1set

5

Welding gun clearing station


Clean up the torch, fuel injection, cut the wire

(3 in 1) Chinese brand

1set

6

Wire feeding accessories

Wire feeding tray bracket and wire feeding tube

1set

7

Peripheral buttons

Dual-position external button box and communication cable

1set

8

Control cabinet bracket

Made by KELITEWELD

1set

9

Robot fixed base

Made by KELITEWELD

1set

10

Conductive tip

Φ=1.0mm/Φ=1.2mm,

1 row = 10 pieces

10 rows

11

Welding torch cover

500A welding torch ;

1 row = 5 pieces

10rows
1.1 Robot introduction
Kawasaki -BA006L(R=2036mm, Repeatability ±0.06 mm)


The BA series is a robotic series developed specifically for welding and is specifically designed for welding. It is simple to operate and can perform skilled welding operations with a simple teach-in operation. On the pendant is equipped with visual effects and easy to operate touch LCD color display. Robots and welders only need a cable connection, welding conditions can be classified storage, a key call。
Kawasaki BA series robot with E01 control cabinet, compact, suitable operating system, feature-rich, easy to maintain and has high scalability.


Teaching methods

Simple operation teaching AS language programming

Action mode

Manual mode

Each axis independent, basic coordinate system, tool coordinate system

Reproduction mode

Each axis / straight line, circular interpolation action

storage




8MB (8000 steps equivalent)

Universal signal

External operation signal

Emergency stop, external hold signal

input Output

32+32
6.5-inch color LCD screen, touch screen 640 × 480 pixels. Using backlight, the LCD screen easier to see.
Operating system using WINDOWS CE. The window display uses the drop-down menu, making the editing operation simple and easy.

Features

Standard arc welding

Model




BA006L

Arm form

Vertical multi-joint

Freedom of movement

6 Axis

Maximum load capacity(KG)

6

The maximum range of motion

[DEG]

JT1

±180

JT2

+150~-90

JT3

+90~-175

JT4

±180

JT5

±135

JT6

±360

Maximum speed of movement

[DEG/S]

JT1

210

JT2

210

JT3

220

JT4

430

JT5

430

JT6

650

Inertia

[N.M]

JT4

12

JT5

12

JT6

3.75

Moment of inertia [KG.M2]

JT4

0.4

JT5

0.4

JT6

0.07

Repeatability [MM]

±0.06

Horizontal extension [MM]

2036

Body weight [KG]

160

Battery capacity [KVA]

2.0

Installation method

Ground, top equipment

Installation environment

temperature

0~45°

humidity

35~85%

vibration

0.5G the following

other

Robot installation must be away from: flammable or corrosive liquid or gas electrical interference

IP rating

IP65

Recommended controller

E01
BA006L Range of motion

1.2 Panasonic YD-500GL5 Welding power system



It has good welding performance for carbon steel and stainless steel materials, and can realize light splash short circuit transition under small current. It is equipped with Root root welding function as standard, suitable for bottoming and large gap welding.Scalable Deepen deep arc function for thick plate deep penetration and thick plate bottom welding, GL5 welder also has a wealth of process software packages for purchase, good for many special materials or special processes.Sex.It is also possible to customize the development of dedicated process software.Standard built-in IOT module and analog communication interface, expandable digital interface, as automatic welding machine and robot power supply.
Main welding methods: CO2, MAG, MAG pulse, stainless steel MIG, stainless steel MIG pulse.
Power supply model

YD-350GL5

YD-500GL5

Product Serial Number

YD-350GL5HGE

YD-500GL5HGE

Input voltage

AC 3*380V 50/60 Hz

Rated input capacity

17.6 kVA




Rated input power

13.5 kW

23.9 kW

Input power frequency

50/60 Hz

Rated output current

Pulse no:DC 350 A
Pulse has:DC 350 A

Pulse no:DC 500 A
Pulse has:DC 400 A

Rated output voltage

31.5 V

39 V

No-load voltage

80 V

80V

Output current range

Pulse no:DC 40~430 A
Pulse has:DC 40~350 A

Pulse no:DC 60~500 A
Pulse has:DC 60~400 A

Output voltage range

Pulse no:16~35.5 V
Pulse has:16~31.5 V(resistive load output capability)

Pulse no:17~39 V
Pulse has:17~34 V(resistive load output capability)

Rated load duration

60%

control method

IGBT inverter control

Welding condition storage

100 channel callable weld specification storage

Specification adjustment

Separate/unary

Applicable wire type

Drug core / solid core

Applicable wire diameter

Solid core0.8/1.0/1.2/14/1.6mm

Core steel 1.2/1.4/1.6mm

Core stainless steel 1.2 mm

Timing

Welding / Welding - Arcing / Initial - Welding - Arcing / Spot Welding

Protective gas

CO2:100%

Ar:80%,CO2:20%

Ar:98%,O2:2%

Gas inspection time

60s (longest gas inspection time)

Advance air supply time

0–5.0s continuous adjustment (0.1s increments)

Lag out time

0–5.0s continuous adjustment (0.1s increments)

Spot welding time

Continuous adjustment of 0.3–10.0s (0.1s increments)




Insulation grade

Main transformer 155 ° C (reactor 200 ° C)

Protection level

IP23S

cooling method

Forced air cooling

Dimensions (length × width × height)

350GL5: 682×380×612 mm

500GL5: 762×380×612 mm

weight

350GL5:68 kg ; 500GL5:75 kg
1.3 Welding gun clearing station(KLT-QH2000S)


Introduction:
The automatic clearing gun station is designed for robotic welding guns and automatic welding guns equipped with an automatic welding system. The cleaning station controls the operation of the equipment by the robot, and the equipment also provides corresponding feedback signals to the robot.
Features:
1, clear gun cutting mechanism in the same position of the gun and fuel injection design, the robot only needs a signal to complete the clearing, cutting, fuel injection and other actions, the entire process only 6-7 seconds, the clearance time is short, High system availability and improved robot productivity.
2, using a multi-function reamer, clearing the gun to the root of the conductive nozzle, the effect of clearing the gun is thorough. The cleaning process is completed automatically, without manual operation.
3. The built-in fuel injection device of the Qinggun Station is controlled by the robot through the solenoid valve, which is safe and reliable and convenient for maintenance. The atomized anti-splash agent can reach the root of the torch tip.
4, the wire cutting device is controlled by a solenoid valve, and the wire cutting is more accurate. Make sure the cut wire falls into the collection box.
5, the electrical arrangement of the gun station is very simple, all control units are installed in the chassis, and the pipe fittings are rarely exposed.
Technical Parameters
| | |
| --- | --- |
| Product Model | |
| Compressed air source | Oil-free dry air |
| Required volume | 10L/s |
| Program control | pneumatic |
| Voltage | DC 24V |
| Clear gun time | 4-5 s |
| Anti-splash capacity | 500ml |
| Splash prevention | adjustable |
| weight | 23kg |
1.4. WL-20 temperature control cold water tank
Temperature control of the water tank by the efficient condenser, EBM fan motor, imported thermostat and water detection sensors and water tanks and other components.
Is the TIG/plasma welding process and high load continuous welding torch cooling an important ancillary equipment.
Technical Parameters
Power supply rated voltage: 1 × 220V 50Hz
Rated load: 205 W
Effective head:20m
Size:540*340*500mm
Weight: ~19kg

1.8 Installation and Trial Operation.
Remarks :The above quotation does not include overseas installation, commissioning, training and other technical expenses
1.8.1 Installation and training on the correct operation shall be carried out by the experts from the sellers. The buyer shall provide necessary machines and tools to be used for installation. The arrival date of the experts from the seller shall be discussed by the two parties.
1.8.2 Technical Service Fees on the Installation Trial Operation: The buyer shall pay for each technician USD $500 per day based on 8 working hours each day. The technical service fees shall be transferred to the Seller's account before the technicians leave the Seller's factory.
1.8.3 All the following fees shall be born by the buyer:
Consulage, round trip air ticket, accommodation, food and beverage, communication ( the buyer shall provide the communication equipment and pay for the fees from the telephone and Internet), transport ,installation fee,translation fee, accident insurance as well as the possible medical cost. Besides, the buyer shall guarantee safety of the technicians during this period.
1.8.4 Upon the seller's requirements,the buyer shall prepare water supply,three phrase power supply,air supply,air compressor,welder,hoisting machine manual tools,cutting tools and other tools as well as consumptive materials within 7days before the technicians leave the Seller's factory.
The buyer shall supply sufficient space for the ball mill and flotation machine.
1.8.5 After installation and trial operation,the buyer shall sign the Installation and Trial Operation Document' within two days.
1.9 Production,transportation and delivery.
1.9.1 All the equipment shall be shipped within five working days after the payment was paid supposed that the transportation ship could be arranged.
1.9.2 Acceptance of all the equipment shall be done according the following terms.
Acceptance of parts quantity——based on the quantity marked in the Bill of loading.
Acceptance of equipment quantity——Based on the quantity specified in the Detailed List and Packing List
Acceptance of quality——qualified with the seller's standard and meets the standards specified by the People's Republic of China.
1.10 Package
After the production is finished for all the equipment, the seller should make suitable package for certain equipment parts and label the parts. Besides, the equipment package shall be intact during the loading, unloading and transportation.