Product Ddescription
1. Digital display of current and voltage, accurate and convenient preset parameters
2, DC TIG welding / DC pulse TIG welding / DC manual welding three functions, a wide range of uses
3,There are two kinds of pulse functions: low frequency (0.5~30Hz) and intermediate frequency (10~500Hz). The low-frequency pulse is suitable for the welding of all-material plate, thick plate and tubular all- position; the medium-frequency pulse arc has high stiffness and good concentration, and is more
suitable for welding various heat-sensitive materials, heat-strength materials and thin plates.
4. Pulse current, base current, pulse frequency and pulse width can be adjusted steplessly, suitable for welding under various specifications.
5. When welding electrode arc welding, the thrust current is infinitely adjusted to avoid sticking
6, built-in anti-shock device, improve operational safety
7, three-layer four-chamber dust-proof structure, enclosure protection class IP23, adapt to harsh environment
8, can be used as automatic welding and robot welding power supply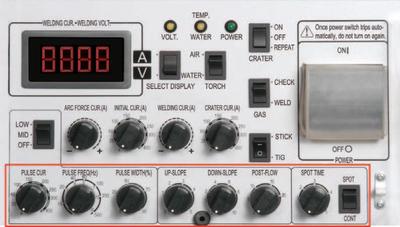 ●Abundant wave-form control, satisfying a variety of welding demands

1.The middle frequency pulse control (10-500Hz)
Good arc stiffness and concentration
For the welding of heat sensitive metals, such as titanium, stainless steel, and ultrathin-plate
2.The low frequency middle frequency pulse control (0.5-30Hz)
For the all-position welding of mid-and thin-plate and pipe made of various metals

(except aluminum, magnesium and their alloys)
(Pulse current, frequency and width and base current can be adjusted steplessly.)
3.The initial current control
Initial current and crater current control improve the bead quality during arc start and crater stages.
●Stable welding at 4A output current
Thanks to high-powered IGBT components in main circuit, the output wave-form is significantly smoothed.

The arc stability at 4A is achievable.
●Arc spot welding function
Applicable to argon spot welding with pre-settable spot current and time.
●Excellent manual welding performance
Arc force current can be adjusted steplessly.
Stick adhesion, arc break or excessive spatter during welding period can be controlled through arc force
current regulation.
●High reliability under tough environment
■ Dust-proof and raindrop-proof design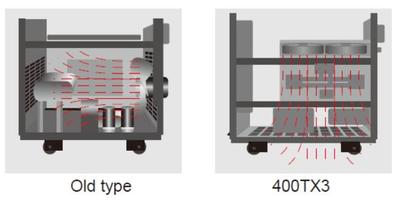 Longer life-span Better cooling air route.
■ An unique design of three layers and four rooms structure
Main PCB, variable resistors and switches are sealed in front room.
Power rectifier diodes and IGBT in middle sealing room.
The cooling air only goes though the inside cooling fins of heat sinks and doesn't directly blow IGBT etc, preventing dust from collecting.
■ Complies with IP23 enclosure class
Machine can endure raindrops come from as wide as 60 degrees.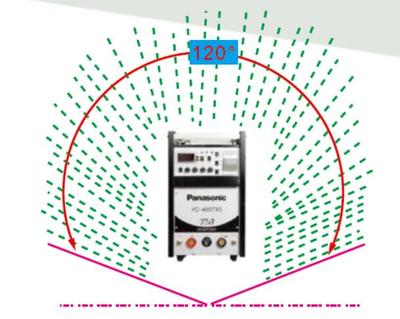 ●Optional remote controller
Remote operation is obtainable.
●Connectable to TIG Mate
By connecting to TIG Mate, automatic TIG welding is realizable.
●Electric shock preventing device
The possible electric shock is preventable at moist, narrow and overhead places.
●Abundant safety functions
Abnormal temperature rise protection
Input under-and over voltage protection
Input phase lack protection
●Specifications
Model

YC-400TX

Controlmode

-

IGBTinvertertype

Input powerfrequency

Hz

50/60

Ratedinputcapacity

kVA/kW

13.9/13.2

Ratedoutputcurrent

A

400

Ratedoutputvoltage

V

26

Ratedduty cycle

%

60

Ratedoutputvoltageat noload

V

Anti-electricshock[ON]:13,[OFF]:73

Outputcurrent range

TIG

A

4~400

Manualarcwelding

A

20~400

Outputvoltage range

TIG

V

10.2~26

Manualarcwelding

V

20.8~36

Initialcurrent

A

4~400

Pulsecurrent

A

4~400

Cratercurrent

A

4~400

Upslopetime

S

0 or0.1~5

Downslopetime

S

0 or0.2~10

Pre-flow time

S

0.3

Post-flow time

S

2~20

Spot weldingtime

S

0.2~5

Pulse frwquency

Low-frequency

Hz

0.5~30

Mid-frequency

10~500

Pulsewidth

%

5~95

Controlmodeforcrater current

-

CraterON/OFF/REPEAT

Arc startingmode

-

High-frequencyarcstarting

Enclosureprotectionclass

-

IP23

Insulationclass

-

H(Bclassformaintransformer)

Coolingmode

-

Forcedaircooled

Dimension(W×D×H)

mm

327×555×602

Mass

kg

43