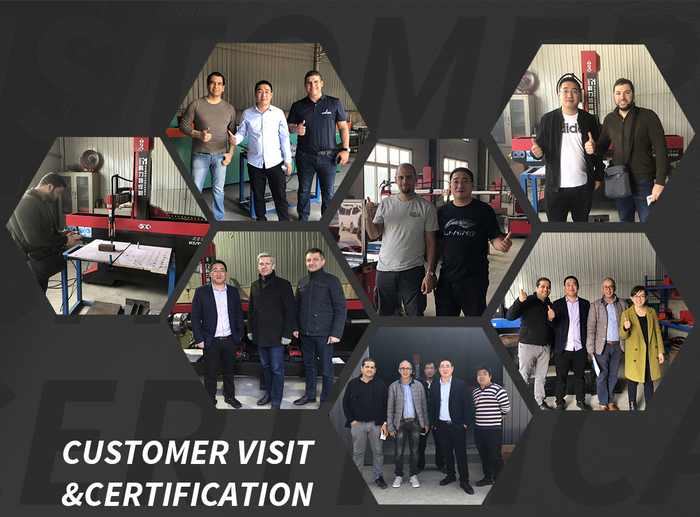 KLTW1900RL8 ( Quotation)



Description

Model

Quantity

Unit value ($:USD)

Total Value ($:USD)

1

6 Axis Welding Robot




Model:KLTW1900

1set






3*AC380 V ,50/60HZ

R=1898mm,Load=6kg

Control cabinet: TRC3C-B06

Welding Power:

EHAVE CM500(China- Megmeet)

R axis travel: 0-400 degrees

Anti-collision welding torch: APG35Y

Cable Line: Standard configuration

2

Servo positioner system




Load≤1200kg, Linked with the robot,

Platform size 4200 * 1400mm, 5 KW servo motor(Chinese brand), Precision RV reducer, External start button box, does not include fixtures

1set






3

Walking outer shaft

Effective travel: 5m

Linked with the robot

1set






4

Gun gun cutting system




Clean up the torch, fuel injection, cut the wire

(3 in 1) Chinese brand

1set






5

Contact sensor system function

Wire inspection,Workpiece inspection,Workpiece offset compensation

1set






6

Port fees

Container port costs

1 set






FOB Total(USD):




The following is optional parts

1

Panasonic YD-350GL5

Pulse MIG/pulse MAG/CO2

1 set






2




Realize real-time communication with the robot control system, tracking welds and other functions

1 set






3

Protective fence




Made in Keliteweld

1 set





Custom machine requirements
Carbon steel products:Base
2. Welding robot workstation workflow
Before soldering the base, the parts must be spot welded or the customer designs and builds the fixture on the platform.
(1) First place the base product on the platform and then fix it with a special fixing fixture (specific fixtures are designed and manufactured by the customer). This ensures repeatability of the workpiece and prevents deformation of the workpiece during the welding process.
(2) Obtain the required machining program in the robot welding control
(3) Press the start button on the workbench, and then the welding robot automatically performs all-position welding of the workpiece..
(4) Manually remove the workpiece after welding
(5) Repeat the above steps
(1)Side parts:First solder the parts on both sides of the base, please see the picture below.
(2)Base:
Spot weld the two side parts to the customer's own spot welding platform. Wait for spot welding and lift the base to the servo positioner system. Repeat the installation using a simple fixture on the platform (designed and manufactured by the customer). Wait for the fixing to complete, then use a 6-axis welding robot for all-position welding.
4. Workpiece precision requirement:
(1)The surface of the work shall not affect the quality of welding oil, rust, moisture;
(2)Must not affect the positioning of burrs, etc.;
(3)The clearance shall be no more than 1mm;
(4)The consistency error of the same weld group is less than 0.5m。
The workstation is mainly composed of a 6-axis welding and welding robot, a walking external axis servo positioner system, a CM500G welding power supply, a carbon dioxide gas cylinder, an external start button box, and a protective fence (optional).
2. Numerical control welding robot workstation layout: (picture for reference only)
If you want to know more details about the 6-axis robot,

please click on the link below: