机器人伺服行走轨道(KLTXZ-1700/2700/3700)
Robot servo travel track (KLTXZ-1700/2700/3700)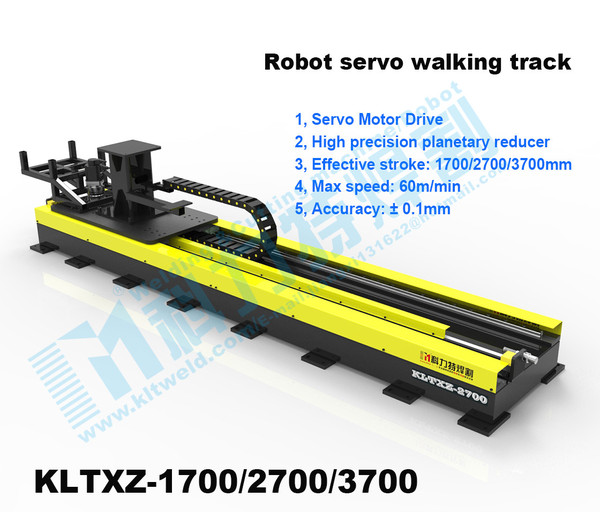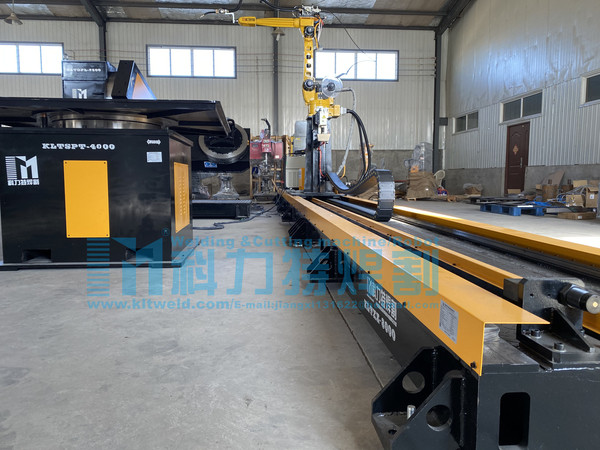 特点(Features):
1,为了加大机器人的工作范围,解决由于机器人本体可达范围有限而造成的工作范围有限的弊端,我公司专门设计了机器人行走轨道。
1. In order to increase the working rangeof the robot and solve the shortcomings of limited working range due to thelimited reach of the robot body, our company specially designed the robotwalking track.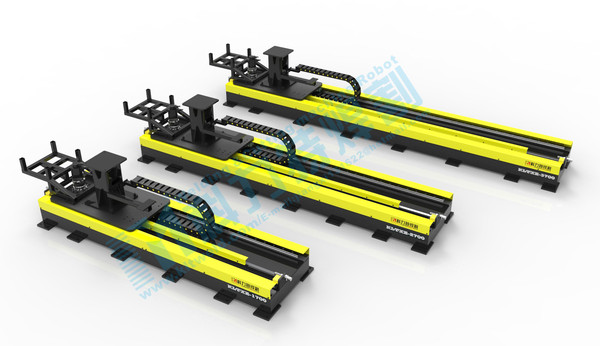 2,我公司生产制造的机器人伺服行走轨道主要由整体固定底座、伺服动力装置,动力传递机构、导向机构、机器人安装导轨、防护机构、限位机构及行走附件等构成。
2. The robotic servo travel trackmanufactured by our company mainly consists of integral fixed base, servo powerunit, power transmission mechanism, guiding mechanism, robot mounting guiderail, protection mechanism, limit mechanism and walking attachment.
3,机器人行走轨道的整体底座由高强度型钢及钢材焊接而成,经过后期退火处理及专业的机械加工处理,可以保证其长久使用的稳定性及高精度,轨道行走采用国内外知名品牌伺服电机(可根据客户要求型号定制伺服电机)配合高精密的行星减速机(日本新宝减速机)作为动力机构。
3. The whole base of the robot walkingtrack is welded by high-strength steel and steel. After the post-annealingtreatment and professional mechanical processing, it can ensure the stabilityand high precision of its long-term use. The track walking adopts well-knownbrand servo motors at home and abroad. (Customer servo motor can be customizedaccording to customer's requirements) with high-precision planetary reducer(Japan Xinbao reducer) as the power mechanism.
4,传动部分由高精密齿轮齿条(斜齿)和高精密直线导轨组成,这样确保机器人行走的平稳性及定位的高精度性。
4. The transmission part consists ofhigh-precision rack and pinion (helical tooth) and high-precision linear guiderail, which ensures the smooth running of the robot and the high precision ofpositioning.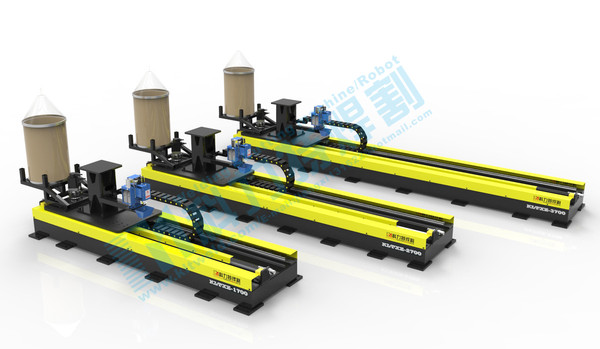 5,为了确保机器人行走的安全性,机器人行走轨道的两端极限位置处添加了硬限位,起到保护作用。
5, In order to ensure the safety of therobot walking, a hard limit is added at the extreme positions of the two endsof the robot walking track to protect.
6,我们还为行走轨道配备了焊枪清理站的支架和桶装焊丝的支架。
6. We also equipped the walking track witha bracket for the torch cleaning station and a bracket for the barrel wire.
7,可以根据客户的工件长度,来定做机器人行走轨道的有效长度。
7, can customize the effective length ofthe robot walking track according to the customer's workpiece length.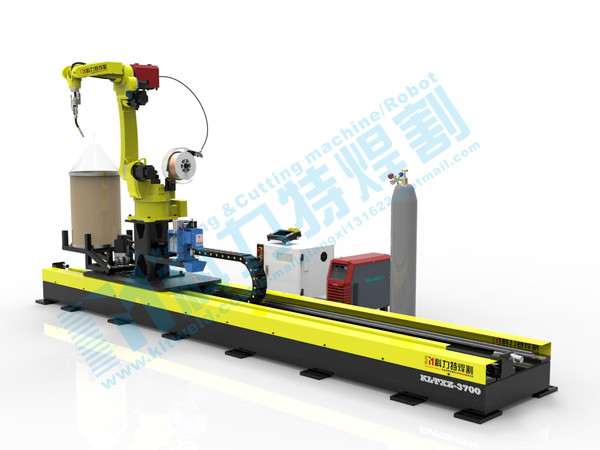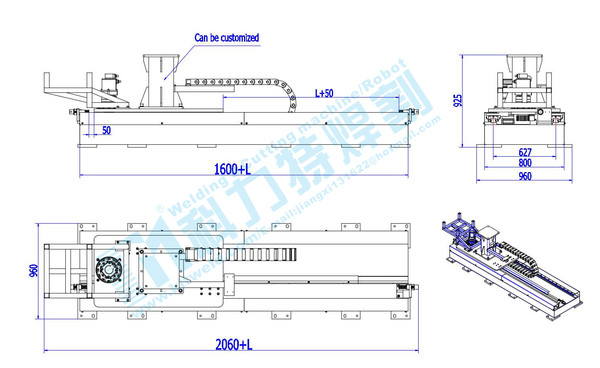 技术参数Technical Parameters
Model

Effective length (L)

Walking speed

Motor size

Repeatability

KLTXZ-1700

1700mm

0-60m/min

130mm×130mm

±0.1mm

KLTXZ-2700

2700mm

KLTXZ-3700

3700mm

The effective length of the robot's walking track can be customized according to the length of the customer's workpiece.