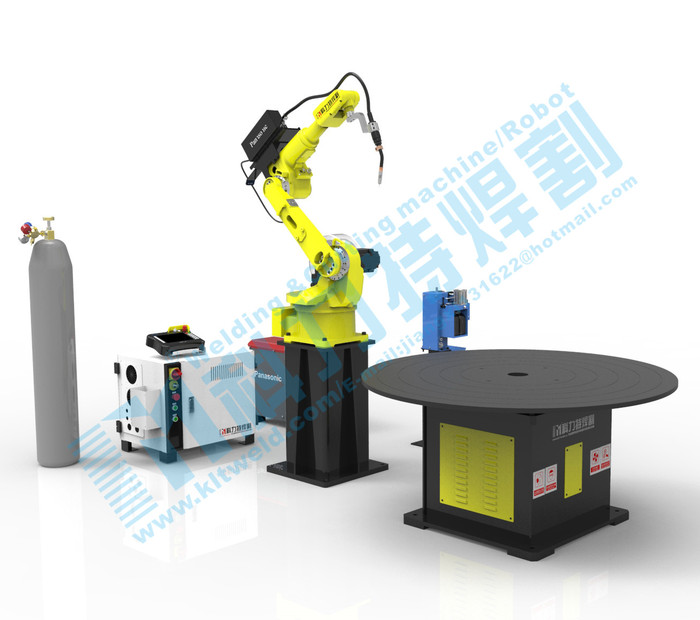 KLTW1400HZ7( Quotation)



Description

Model

Quantity




1

6 Axis welding Robot







Model:KLTW1400

AC220 V ,50/60HZ

R=1441.5mm,Load=6kg

Control cabinet: TRC3C-B06

Anti-collision welding torch: APG35Y

Cable Line: Standard configuration

1 set




External axis servo motor

Add 7 axis (Horizontal rotation axis);

1 set




Robot extension cable

Robot extension cable (8m);


And extension of external axis servo motor cable

1 set




2

MIG/MAG/CO2


Welding Power




Model: Panasonic YD-350GL5

Load rate: 60% ;MIG/MAG/CO2; Robot special wire feeder

1 set




3

Servo positioner system




Load≤500kg, Linked with the robot,

Platform 1500mm diameter, Precision RV reducer,


External start button box, does not include fixtures

1 set




4

Welding gun clearing station




Clean up the torch, fuel injection, cut the wire

(3 in 1) Chinese brand

1 set




5

Conductive tip




Φ=0.8mm or Φ=1.0mm or Φ=1.2mm

1 row = 10 pieces

10 row




6

Welding torch cover




350A Air-cooled welding torch ;

1 row = 5 pieces

10 row




7

Port fees

Container port costs

1 set




FOB Total(USD):

Quotation description:

1, This offer is valid for 10 days from the date of quotation;

2, Delivery cycle:45 working days after signing; delivery mode: Port of Tianjin ,China;

3, Payment: full payment, delivery;The freight includes arrival at port;

4, Payment method: T/T ,Prepay 40%, pay 60% within 5 days before delivery ;

5, This price does not include overseas engineering installation services, such as installation services,


the specific price in communication

The following are optional components

1

Protective peripheral parts




Includes: protective fence, external start button, raster protection,


cable line bridge and cable wire required for the workstation

1 set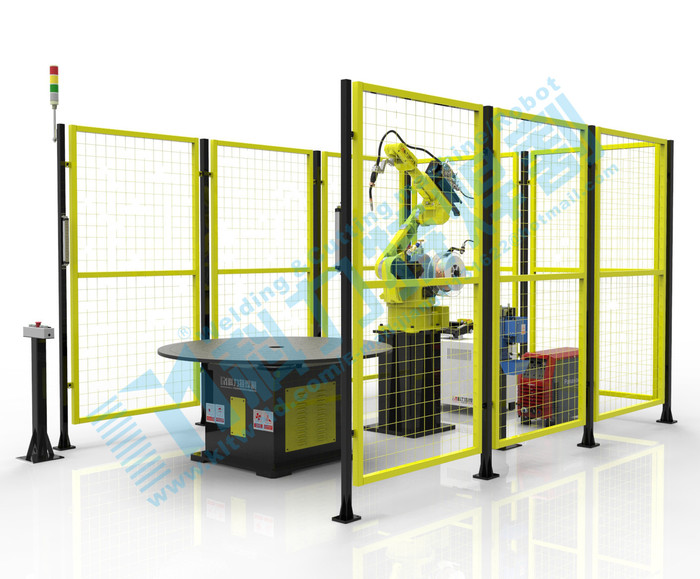 Custom machine requirements
Carbon steel products:
2. Welding robot workstation workflow
(1) First, the product to be welded is fixed on the platform of the turning position machine, and then fixed with a special fixing fixture (the specific fixture is designed and manufactured by the customer). This ensures that the product can be repeatedly installed, prevents the workpiece from falling during the welding process, and avoids welding deformation in some areas.
(2) Obtaining required processing programs in robot welding control
(3) Press the start button of the positioner, and then the welding robot automatically performs the position welding required for the workpiece on the platform.
(4) After welding, the operator manually places the product on the platform. Repeat the installation again.
(5) Repeat the above steps
3. Workpiece precision requirement:
(1)The surface of the work shall not affect the quality of welding oil, rust, moisture;
(2)Must not affect the positioning of burrs, etc.;
(3)The clearance shall be no more than 1mm;
(4)The consistency error of the same weld group is less than 0.5m。
4. Applications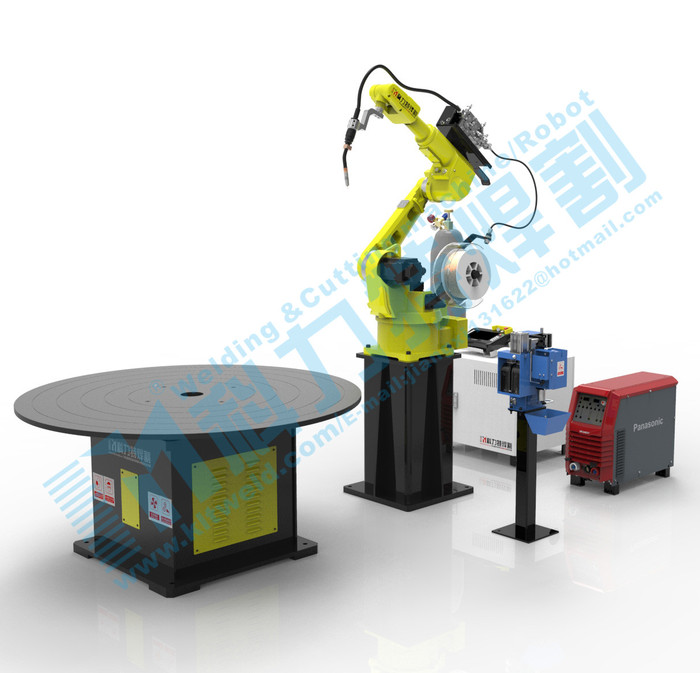 The workstation is mainly composed of 6-axis welding robot, robot controller, Horizontal rotary welding positioner, Panasonic YD-350GL5 welding power supply, welding gun cleaning station, protective fence, carbon dioxide gas cylinder, external start button box and grating protection.
2. Numerical control welding robot workstation layout: (picture for reference only)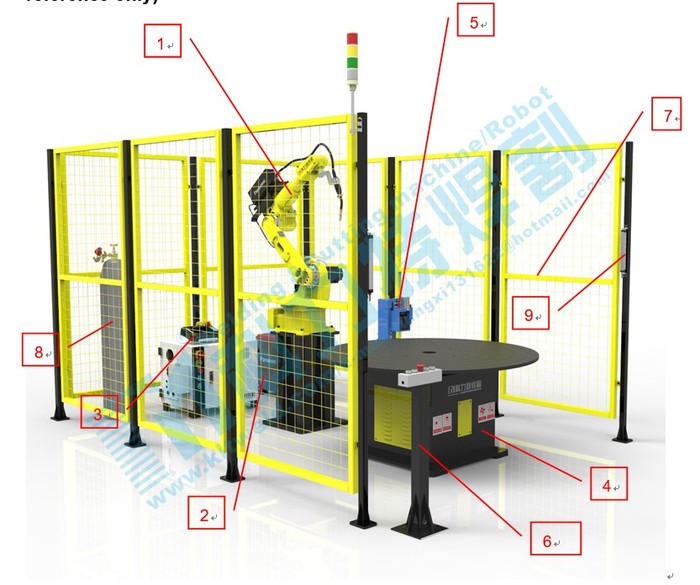 1、6 Axis Welding Robot(KLTW1400)
2、Welding power supply (Panasonic YD-350GL5)
3、Robot control cabinet and teach pendant(TRC3C-B06)
4、Horizontal rotary welding positioner
5、Welding gun cleaning station
6、External start button box
7、Protective fence
8、Carbon dioxide gas cylinder