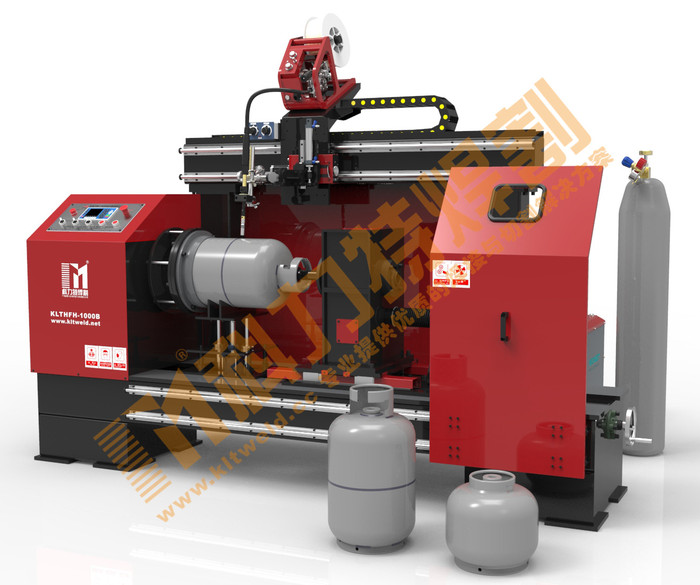 KLTHFH-1000B ( Quotation)



Description

Model

Quantity




1

CNC ring seam welding machine




AC 220V 50 HZ

1 set




The maximum effective welding length:1M

Clamping diameter :Φ311mm

Headstock center height:450mm

Headstock: Servo motor; Precision Rv reducer

Welding torch pneumatic drop stroke: 100mm

Controller: CNC 2-axis controller

2

1 # Gas tank handle fixing fixture

Professional design and manufacturing

2 set




3

2# Gas tank chassis fixing fixture

Professional design and manufacturing

1 set




4

3# Tailstock fixture

Professional design and manufacturing

1 set




5

Weld swing device




welding gun swings left and right, swing frequency,


left and right swing stay time, etc

1 set




6

Welding power supply




Model: Panasonic YD-350GL5

Load rate: 60% ;MIG/MAG/CO2; Robot special wire feeder

1 set




7

Welding torch




500A water-cooled Straight shank welding torch

1 set




8




Model:WL-20

Power supply rated voltage: 1 × 220V 50Hz

Rated load: 205 W

1 set




9

Conductive tip




Φ=1.0mm/Φ=1.2mm,

1 row = 10 pieces

10 row




10

Welding torch cover




500A water-cooled welding torch;

1 row = 5 pieces

10 row




11

Port fees

Container port costs

1set




FOB Total(USD):

Quotation description:

1, This offer is valid for 10 days from the date of quotation;

2, Delivery cycle:35 working days after signing; delivery mode: Port of Tianjin ,China;

3, Payment: full payment, delivery;The freight includes arrival at port;

4, Payment method: T/T ,Prepay 40%, pay 60% within 5 days before delivery ;

5, This price does not include overseas engineering installation services, such as installation services, the specific price in communication
Custom machine requirements
This machine (KLTHFH-1000B) is mainly used for automatic circumferential welding of gas tanks (which can be indexed and segmented). The length of the workpiece is ≤1M, the thickness of the weldment is 1-6mm, and the weldment is carbon steel or stainless steel.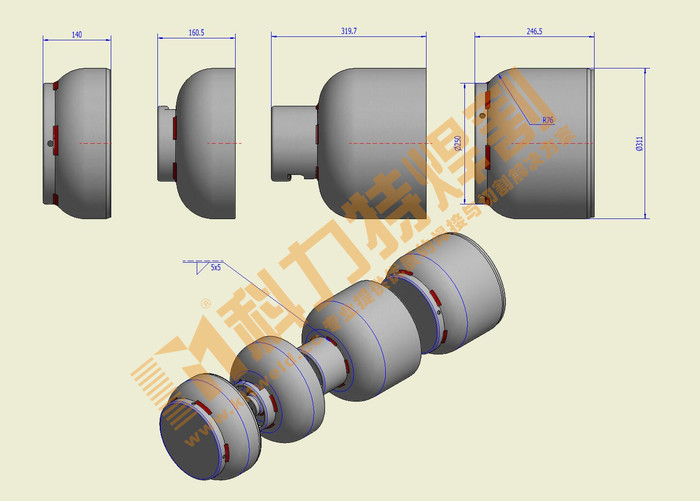 Machine main function description
1.1 Workload loading and unloading methods: First, the operator installs the workpiece in the left and right clamps, and then presses the machine start button. The cylinder support bracket is lowered to the bottom position. The right pneumatic tailstock advances to dock the left and right sides of the workpiece. . The welding torch automatically drops to the welding position and performs sub-section welding of the gas tank chassis or sub-section welding of the gas tank handle.
1.2 Welding method: The workpiece is in the fixture, and the workpiece is rotated by the power of the spindle box servo motor and precision RV reducer (accuracy ≤ 3 arc minutes). This machine adopts MIG gas shielded welding process, and the welding power load rate is 600%. 500A water-cooled welding torch and related water-cooled water tank can realize long-term welding of gas tank chassis or handle. Therefore, we choose the Panasonic YD-350GL5 model with CO2 / MAG / MIG function (welded carbon steel with pulse function to achieve very low spatter particles), which is suitable for customer-defined materials: carbon steel or stainless steel.
3. Workpiece precision requirement:
(1)The surface of the work shall not affect the quality of welding oil, rust, moisture;
(2)Must not affect the positioning of burrs, etc.;
(3)The clearance shall be no more than 1mm;
(4)The consistency error of the same weld group is less than 0.5m。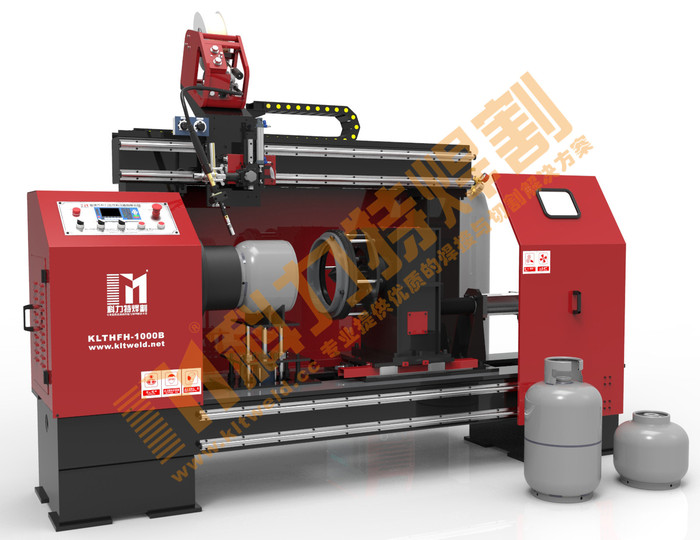 1. Component:
KLTHFH-1000B CNC ring seam welding machine is mainly composed of machine tools, column sliding beams, servo rotating headstock (with CNC programming indexing function), special clamps for gas tanks, pneumatic top and tailstocks, pneumatic support frames, upper and lower pneumatic slide tables. Manual sliding table, welding torch three-dimensional adjustment fixture, welding torch swing mechanism, water cooled welding torch, wire feeder, CNC control system, Panasonic YD-350GL5 (MIG / MAG / CO2) welding power source, cooling water tank, safety door, cable towline, carbon dioxide Gas cylinders and other components.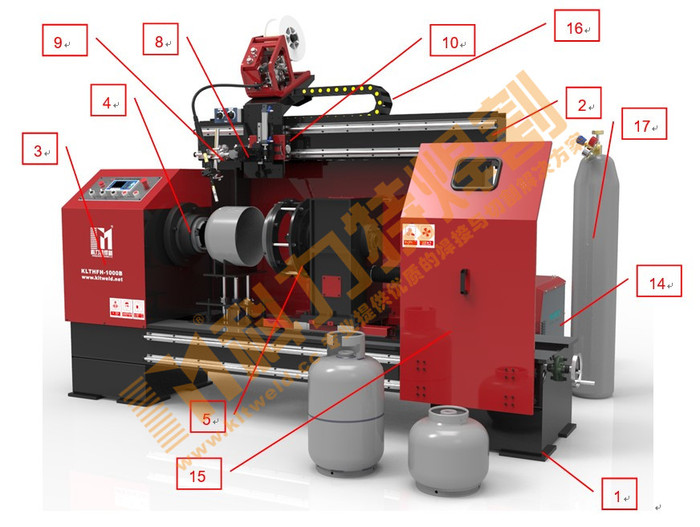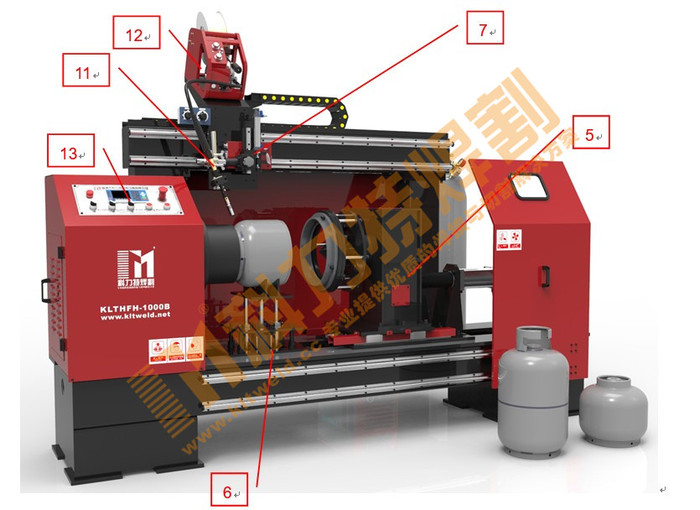 1、Machine bed
2、Column sliding beams
3、Servo rotating headstock
4、Special clamps for gas tanks
5、Pneumatic top tailstock
6、Pneumatic support bracket
7、Upper and lower air slide table
8、Front and rear manual slide table
9、Welding torch three-dimensional adjustment gripper
10、Welding gun swing mechanism
11、Water cooling torch
12、Wire feeder
13、CNC control system
14、Panasonic YD-350GL5 welding power supply, cooling water tank
15、Safety protection door
16、Cable Drag chains
17、Carbon dioxide gas cylinder
2.
KLTHFH-1000C CNC end ring seam welder MIG welder layout: (picture is for reference only)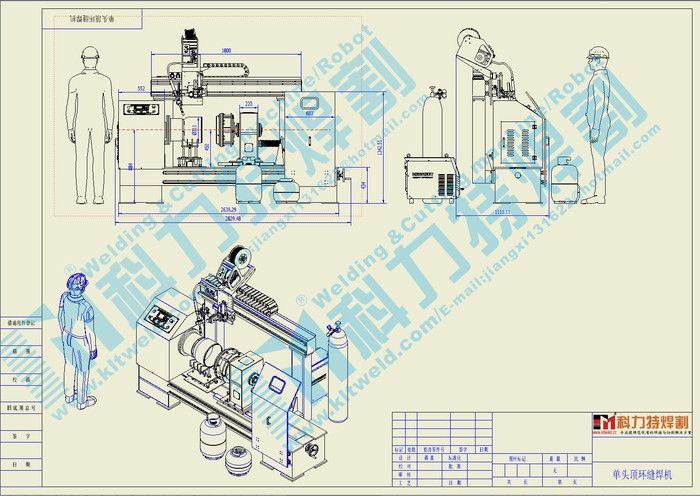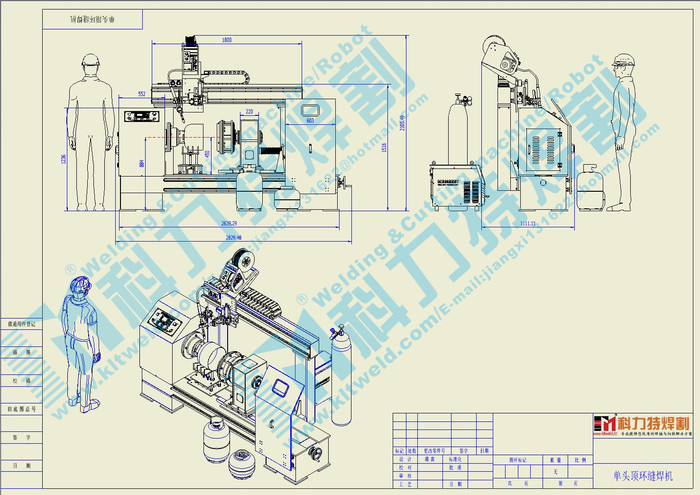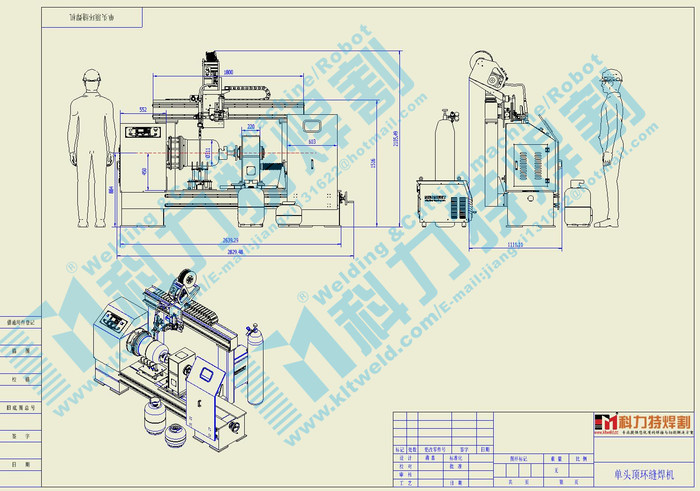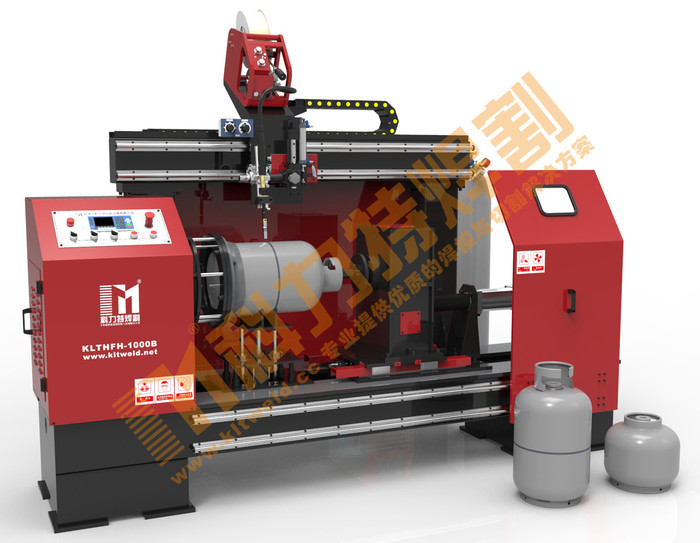 The main technical parameters
| | | |
| --- | --- | --- |
| | Model | KLTHFH-1000B |
| 1 | Effective welding length | ≤1m |
| 2 | Welding speed | 200~800 mm/min |
| 3 | Welding power supply | Panasonic YD-350GL5 |
| 4 | Cooling water tank | WL-20 |
| 5 | Number of welding guns | 1 set |