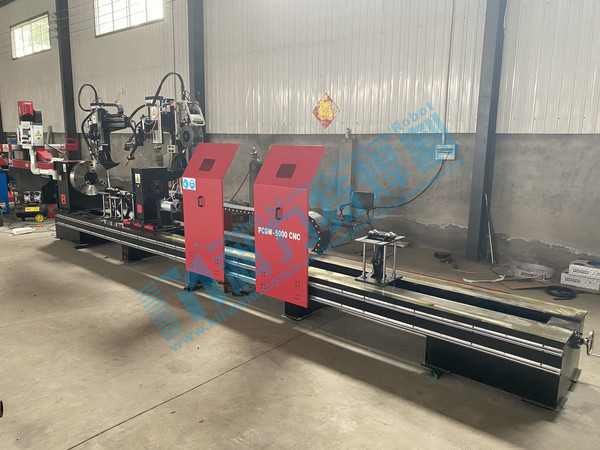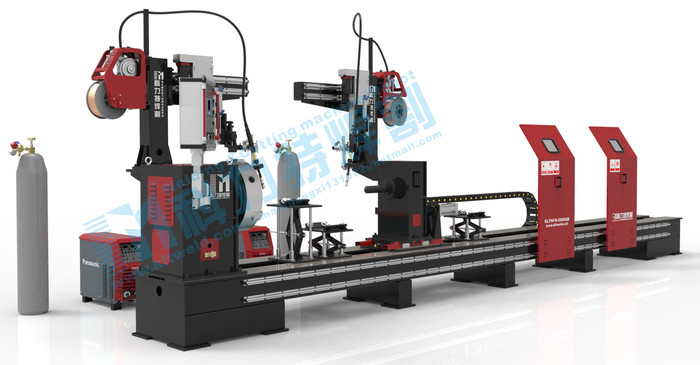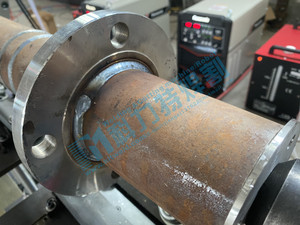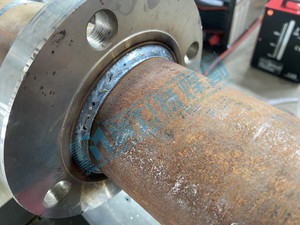 CNC ring seam welding machine

KLTHFH-5000AM ( Quotation ) Panasonic YD-500GL5

1,Input power :AC 220V 50 HZ

2, Product length range: ≤5100mm

3, Product diameter range: 50-500mm

4, Welding process: CO2 / MAG / MIG






Description

Model

Quantity






1

Machine bed

Steel structure splicing and welding

1 set






2

Servo rotary headstock

1. Load capacity: ≤1200kg;

2. Transmission mode: 2.5KW AC servo motor


and precision RV110E reducer;

3. Center height: 500mm;

4, rotation speed: 0-15r / min;

5, Contains 500mm manual chuck;

1 set






3

Welding head

1. Travel of servo electric slide: 300mm

2. Motor form: 400W AC servo motor (brake)

3.Cylinder descending stroke: 100mm

4. Three-dimensional position adjustment slide stroke: 60mm

5.The effective travel of the manual movement of the


machine head: 450mm

2 set






4

Pneumatic tailstock

1. Cylinder model: SC100 * 150, stroke 150mm;

2, center height: 500mm

1 set






5

1. CNC 4-axis welding controller

2, including 3 sets of servo drives

3, China CHNT electrical components

4. Rotatable control box

1 set






6

Support bracket

1. Load: ≤2000kg

2. Support diameter range: 0-550mm

3 set






7

Protective door

During the welding process, it is convenient for the


operator to check the welding status

1 set






8

Protective towline

8m lengthened

1 set






9

Welding power supply

Model: Panasonic YD-500GL5

Load rate: 60% ;MIG/MAG/CO2; Robot special wire feeder

2 set






Welding power extension cable

Extension cable (4m)

1 set






Extension cable (8m)

1 set






10

Welding torch

500A water-cooled Straight shank

welding torch

2 set






11

Model:WL-20

Power supply rated voltage: 1 × 220V 50Hz

Rated load: 205 W

2 set






12

Conductive tip

Φ=1.0mm/Φ=1.2mm,

1 row = 10 pieces

10 row






13

Welding torch cover

500A water-cooled welding torch;

1 row = 5 pieces

10 row






14

Port fees

40GP Container port costs

1set









Custom machine requirements
This machine (KLTHFH-5000AM) is mainly used for automatic circumferential seam welding of the roll circumference. Workpiece length ≤ 5M, diameter range: 0-500mm; weldment thickness is 1-6mm, weldment is carbon steel or stainless steel.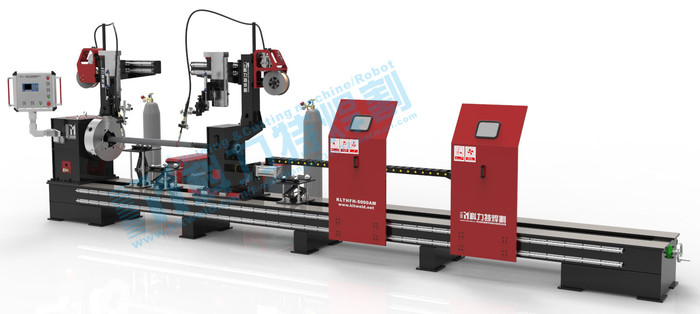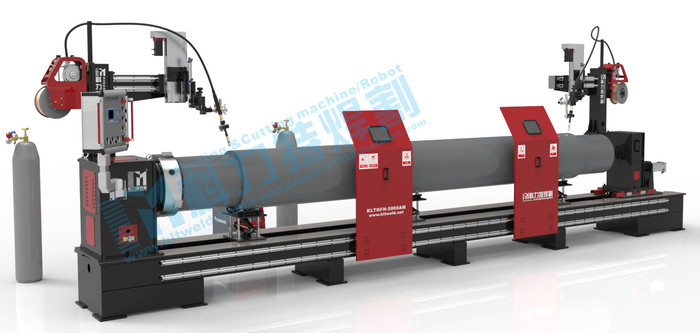 Machine main function description
1.1 Workload loading and unloading methods: First, the operator hoisted the workpiece on the support bracket and clamped one end of the workpiece with a manual chuck, turning the tailstock cylinder button, and the tailstock central shaft pressed against the other end of the product. Press the machine start button, the welding torch automatically descends to the welding position and performs two circumferential welding of the roller.
1.2 Welding method: The workpiece is in the fixture, and the workpiece is rotated by the power of the spindle box servo motor and precision RV reducer (accuracy ≤ 3 arc minutes). This machine adopts MIG gas shielded welding process, and the welding power load rate is 60%. 500A water-cooled welding torch and related water-cooled water tank can be used for long-term welding of rollers.Therefore, we choose Panasonic YD-500GL5 model with CO2 / Pulse MAG / Pulse MIG function or OTC-CPVE400 welding power supply with CO2 / MAG / Pulse MIG function.
They are suitable for customer-defined materials: carbon steel or stainless steel.
3. Workpiece precision requirement:
(1)The surface of the work shall not affect the quality of welding oil, rust, moisture;
(2)Must not affect the positioning of burrs, etc.;
(3)The clearance shall be no more than 1mm;
(4)The consistency error of the same weld group is less than 0.5m。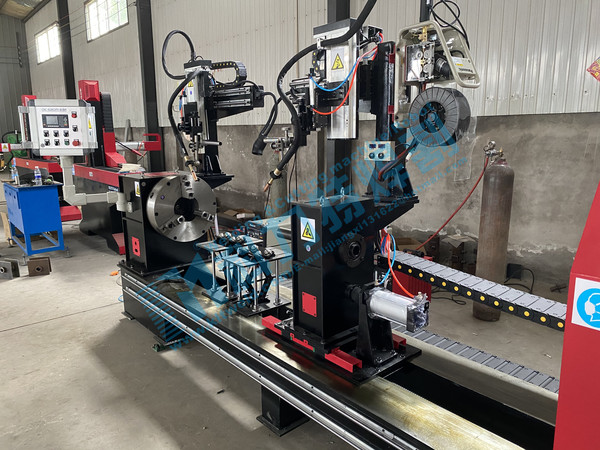 1. Component:
KLTHFH-5000AM CNC ring seam welding machine is mainly composed of machine bed, Servo rotary headstock, Welding head, Pneumatic tailstock, Control System, Support bracket, Protective door, Protective towline, Panasonic YD-350GL5 or OTC-CPVE400 (MIG / MAG / CO2) welding power source, cooling water tank, 500A water-cooled welding torch, carbon dioxide Gas cylinders and other components.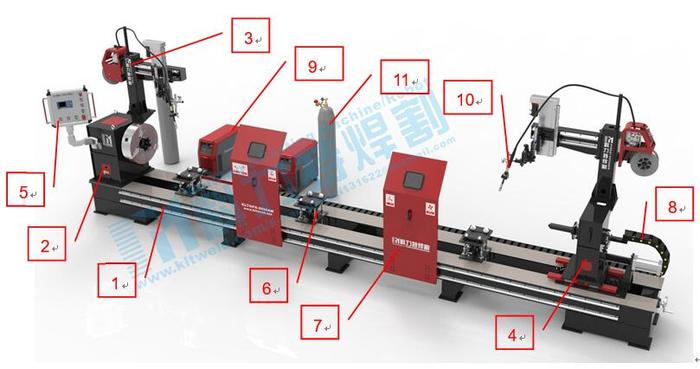 1、Machine bed
2、Servo rotary headstock
3、Welding head
4、Pneumatic tailstock
5、Control System,
6、Support bracket
7、Protective door
8、Protective towline
9、Panasonic YD-350GL5 or OTC-CPVE400 and cooling water tank
10、500A water-cooled welding torch
11、Carbon dioxide gas cylinder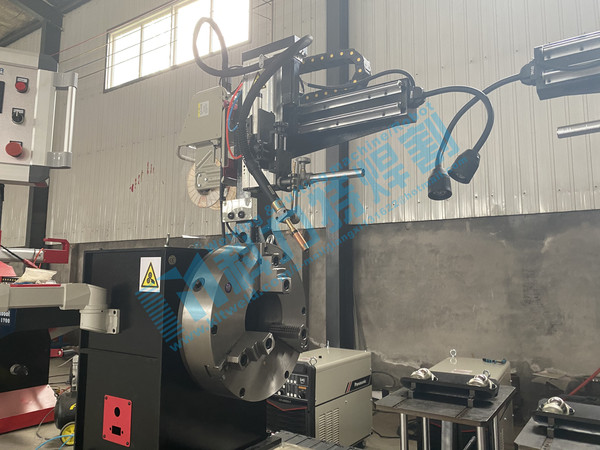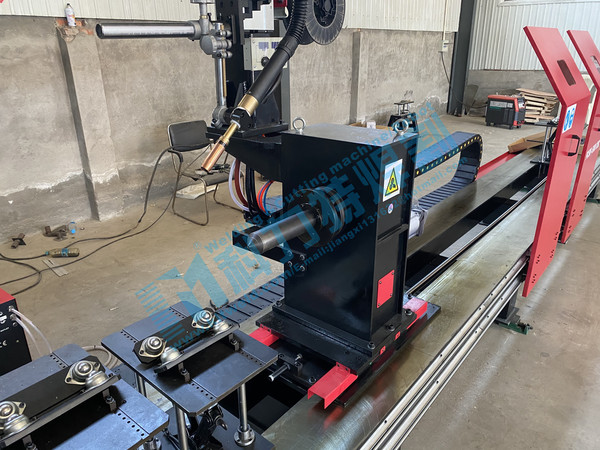 2. KLTHFH-5000AM CNC end ring seam welder MIG welder layout: (picture is for reference only)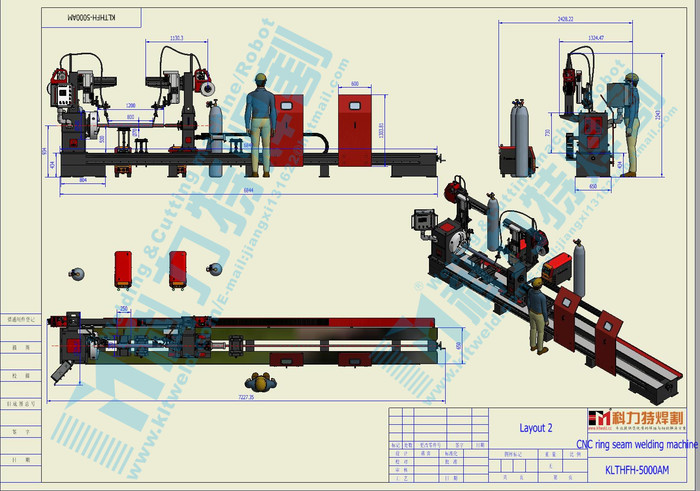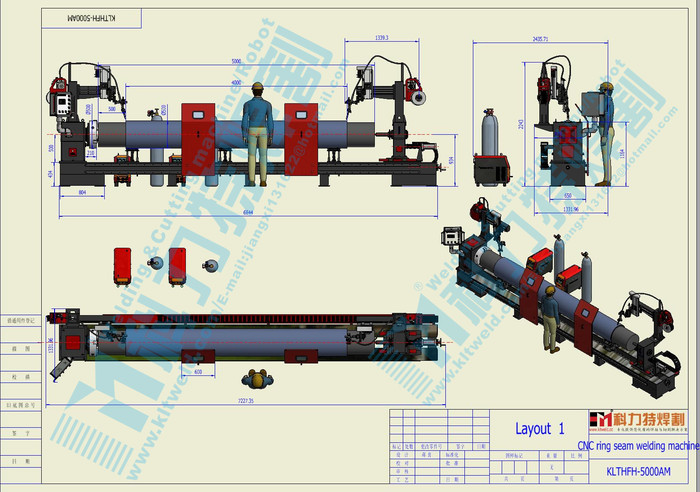 The main technical parameters
| | | |
| --- | --- | --- |
| | Model | KLTHFH-5000AM |
| 1 | Effective welding length | ≤5100mm |
| 2 | Welding speed | 200~800 mm/min |
| 3 | Welding power supply | Panasonic YD-350GL5 or OTC-CPVE400 |
| 4 | Cooling water tank | WL-20 |
| 5 | Number of welding guns | 2 set |